build smart strength

work curiously

personalized for you


Turbodog Yoga, created by Steve & Talya, is on the cutting edge of yoga.  
It is a strength-building practice based on the latest scientific understanding of how muscles lengthen and open, and it is the only system that uses asymmetrical sequencing to repair imbalances in the body. 
It is a modern approach designed to address modern life's physical demands.
It recognizes that modern life also comes fraught with daily emotional challenges and it answers these by folding ancient indigenous ceremonies and rituals into the asana practice.  
It is an exciting and super effective style.  Students enjoy meaningful and lasting results.

You will be blown away!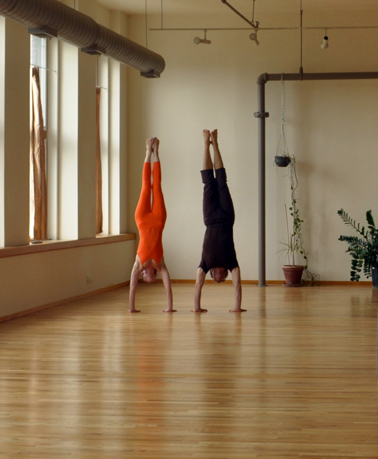 We at Inner Fire Yoga enjoy welcoming you to our studio in Madison every year for weekend classes and workshops! It has truly been a fruitful arrangement for Inner Fire Yoga students. Each year, it gets better and better, and it seems to elevate the teaching at the studio as well.

You have certainly developed an excellent reputation among our community of growing yogis. Ears perk up and eyes light up when your names are mentioned in our studio!  Your gifts of guiding and sharing the power of healing through yoga certainly are just that - gifts. Your gifts combined with your overall teaching skills, our students always have wonderful yoga experiences with you.

Personally, I am thankful for your professionalism, responsiveness and overall good communication from the business side. We are certainly looking forward to your contribution to our teacher training program this year as well. Thank you so much for sharing your INNER FIRE with us!

Namaste,
Marit and everyone from Inner Fire Yoga, Madison, WI

It was truly delightful having Steve and Talya visit Salt Lake City this spring. Their passion and energy around Turbodog Yoga, and all of its benefits, is downright infectious!  I felt so fortunate to have the presence of their teachings right here in my hometown. 

My students loved the workshop and had nothing but positive things to say about the experience. Everyone felt rejuvenated and totally re-inspired to deepen their own yoga practice, and teachers were inspired to refine their teaching skills.

I was told repeatedly how effective the hands-on adjustments were, and the constant focus on breathing was invaluable. We all appreciated the thoughtful insights that come so naturally through Steve & Talya.  Their powerful messages about the physical, mental and emotional healing that one can realize through yoga are remembered far after they're gone.

We would have them back in a heartbeat, any day!

- Brande LaCasse, Salt Lake City, UT

Thank you Steve &Talya for the wonderful workshop at our studio.  Our students loved it, and it definitely got them out of their comfort zone.
 
After the first workshop everyone commented on how much they got out of the weekend and wanted you back soon to continue the work. They said it was the most challenging practice they ever experienced for the body and mind but they did it! The Talking Circle Ceremony was somewhat scary for them when it was their turn to speak, but they felt empowered after. 

The energy that you brought to the studio was very powerful and we felt excited and confident that we too can go for whatever it is we are seeking. You have such open hearts and we were all affected by your passion for Forrest Yoga.

The students were able to try new things and felt safe with your guidance. We were all thrilled when we got into asanas we never thought we would be able to do!

Thanks to the "Hands-On Assists Class," the teachers felt more confident with hands-on adjustments and how to do them with compassion. There were new techniques offered for adjustments that allowed the practitioners to move into the asana with a gentle but powerful opening.

Our "inner sun" is shining much more brightly!  The students are learning how to get over their fears and delve deep into the body and mind in a non-harming way. They are gradually releasing old stories and working on themselves.  Personally, I work with the teachings from your workshops in every practice.  They have taught me to not dwell on the past, enjoy every moment, let go of worry and have the confidence to move forward.

Deb Sommerhalder
Inner Sun Yoga Studio, Oshkosh, WI

Steve and Talya's workshops have provided our students the opportunity
for pivotal healing and transformation. As a result, our community is
richer. After the workshops, students have both the willingness to
continue to work deeper in group classes and tangible tools to draw
on. Students have shared how the workshops liberated their practices
and freed them from years of emotional and physical baggage.

Additionally, teachers have shared being inspired with a new
commitment to keep practicing and further their training.

Steve and Talya are super easy to host: they're flexible in
accommodation and to the studios needs which make for less stress and a fulfilling experience for all.

Kimberly Greeff
Evolve Yoga Studio, Anchorage, AK